OKKAMI is the world leader in digital guest engagement and staff management platform solutions for the hospitality industry. We currently provide fully integrated solutions for some of the largest hotel groups and shopping malls in the industry. To find out how you can implement a touchless guest experience, schedule a demo today.
OKKAMI
View App
The Anantara experience was born in 2001 with our first luxury property in Thailand's historic seaside retreat of Hua Hin. From that day forward, we expanded throughout the world to cosmopolitan cities, lush islands, desert sands, heritage destinations, uncharted beaches and contemporary resort destinations.
Anantara Hotels
& Resorts
View App
Right from our beginnings in the early 1990s, Six Senses has been widely recognized for establishing the early benchmarks for the hospitality industry. These standards have enabled us to establish consistent quality without being formulaic, and with each property free to infuse their own local touch.
Six Senses Hotels
& Resorts
View App
Chatrium Hotels & Residences. For the perfect blend of luxury and comfort, look no further than Chatrium Hotels & Residences. Be it at our hotels in Bangkok Thailand to getaways in Yangon or Chanthaburi we let you truly Feel the Remarkable.
Chatrium Hotels & Resorts
View App


Contactless Express Check-in / Out
Allow guests which made a booking on either OTA or hotel website to request a pre-check-in. The guests can upload a passport photo and all required information needed for check-in such as an arrival card (TM6). For check-out they can use the mobile app to review their folio and perform an express check-out. Once the hotel checks the guests in they can go to a special line to pick-up the key. If mobile key is also available the guest can go directly to the room.
Notifications & Promotions
Our dashboard is your perfect promotional partner, ensuring notifications are communicated to users in a targeted and timely manner.Notifications are sent out based on your desired schedule and target audience. Brands with multiple locations can take advantage of geolocation base notifications and automatically notify guest once they get near any property with targeted promotions. While guests are in house notifications can be triggered upon check-in, pre-departure and check-out.
Mobile Key
No need to visit the front desk the guest can go directly to their assigned room once the front desk operator has checked them in. Unlimited number of keys can be issued when additional guests use the pairing code provided to them via email which is sent upon check-in.
Live Chat & Messaging
Allow customers to communicate on their own devices without having to pick-up the room phone. Staff can reply safely from the comfort of their office or from one centralized location. This will keep the staff safe but can also reduce the cost of needing additional staff onsite. OKKAMI provides a multichannel chat platform with built-in translator.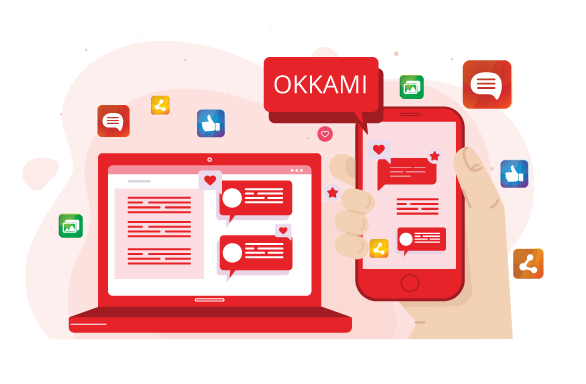 Fulfillment Request and Staff Ticketing Dashboard
Allow guests to make a request without having to pick up the phone or request an item in person. Staff can also assign tickets and work orders to other team members without having to be in the same location. Guests can also request that their deliveries are contactless as they can communicate via the software and service staff will leave the delivery or room service item at the door and inform the guest.
Digital Menus
Allow customers to scan a QR code or use the location branded / OKKAMI app to view menus. Customers can also choose to place an order using the digital menu. Reduce the need for paper in the guest rooms. Guests can view and order from anywhere. Service staff will leave the tray in front of the door and ring / knock to alert the guests.
3rd Party Sellers / Stores Within a Branded App
Allow 3rd parties like tour operators, restaurants, cleaning services, local shops. OKKAMI or the hotel can manage the relationship.
Room Controls
Allow guests to control all room components without having to touch any of the buttons on the wall or the in-room remote control.
Providing hotels a better platform for the perfect guest experience.
We provide custom software development services in addition to completely managed in-room devices and downloadable guest app for iOS and Android.
Client Testimonials
We are very proud of the service we provide and stand by every product we carry. Read our testimonials from our happy customers.
OKKAMI provides solutions customized to meet your needs
Understanding your requirements and objectives is important to us. We listen and work together to create a truly unique and unforgettable experience.