Introducing OKKAMI's Room-Specific Chat Notifications: Elevating Guest Service with Real-Time Communication!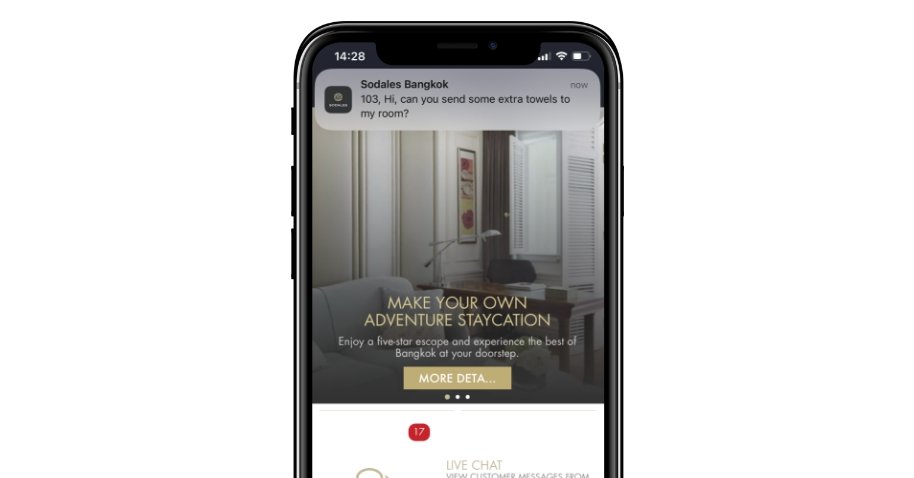 In the world of hospitality, effective communication is key to providing exceptional guest experiences. Understanding this critical aspect, OKKAMI is thrilled to introduce an exciting new feature that takes guest service to the next level: room-specific chat notifications. With this enhancement, our platform empowers hotel staff to effortlessly track and respond to guest requests in real-time, ensuring seamless and personalized service delivery.
Streamlining Communication with Room-Specific Chat Notifications:
Gone are the days of sifting through multiple chat messages to identify the room number associated with a guest. OKKAMI's room-specific chat notifications provide a simple and efficient solution. Now, whenever a message pops up, the guest's room number is prominently displayed alongside their name. This small yet significant improvement makes it easier for hotel staff to track and follow requests with precision, streamlining communication and minimizing any room for confusion.
Real-Time Responses for Unparalleled Guest Satisfaction:
With room-specific chat pop up notifications, hotel staff can promptly address guest requests, leading to faster and more efficient service. The added visibility of the room number enables staff members to prioritize their responses based on guest location, ensuring that urgent matters are attended to promptly. By leveraging this feature, hotels can offer real-time support, enhancing guest satisfaction and fostering a sense of care and attention.
Improved Staff Productivity and Workflow:
The room-specific chat notifications also have a positive impact on staff productivity. By instantly recognizing the guest's room number, hotel staff can efficiently coordinate and delegate tasks, optimizing workflow within the team. This streamlined approach eliminates unnecessary back-and-forth communication and reduces the chances of errors or delays. As a result, hotel staff can focus their time and energy on delivering exceptional service, enhancing overall operational efficiency.
Enhanced Personalization for Guest Experiences:
Personalization is a key element in providing unforgettable guest experiences. With room-specific chat notifications, hotel staff can easily identify and recall guest preferences or previous interactions, creating a more personalized and tailored service. This level of attention and care not only exceeds guest expectations but also strengthens the hotel's brand reputation and encourages positive reviews and recommendations.
OKKAMI's introduction of room-specific chat notifications marks a significant milestone in revolutionizing guest service within the hospitality industry. By simplifying communication and providing real-time responses, this feature empowers hotel staff to provide seamless, personalized experiences that leave a lasting impression on guests. The enhanced efficiency and productivity benefit both staff and guests, leading to increased guest satisfaction and loyalty. With OKKAMI's commitment to continuous improvement, we are dedicated to helping hotels elevate their service standards and create extraordinary memories for every guest.
OKKAMI provides a comprehensive hospitality platform which includes IoT smart room controls, guests & staff request management, unified Live Chat platform, and a powerful CRM. Our solution helps partners to enhance revenue centres, streamline operations, and connect with customers. Today, OKKAMI services over 45,000 rooms globally across North America, Europe, and Asia, and includes over 75+ integrations with leading hospitality vendors. OKKAMI also specializes in implementing touchless features such as contactless check-in/out, QR code menus, digital compendium and more.