Artificial Intelligence (AI)
For a properties that rely on client facing interfaces or software to improve the customer or guest experience, it's critical for the top tier providers to use AI.
The Secret to Improving Guest Satisfaction
As Artificial Intelligence (AI) continues to evolve it has become a powerful business tool when accompanied with clean data. For a properties that rely on client facing interfaces or software to improve the customer or guest experience, it's critical for the top tier providers to use AI.
The OKKAMI platform allows for properties and service orientated businesses to be able to provide a superior customer engagement platform to vastly improve the entire guest journey resulting with improved and higher guest satisfaction.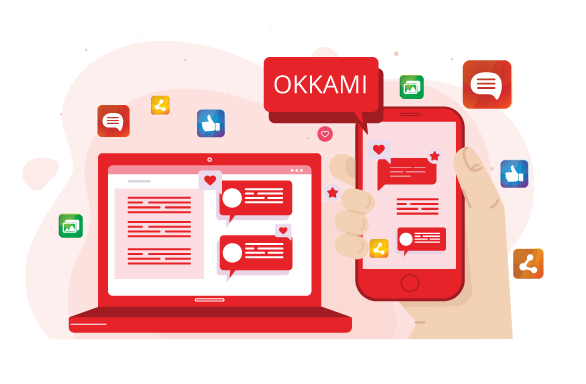 OKKAMI Guest Engagement ChatBot
Hotel guests and online customers have a more streamlined support or buying experience if there is some form of automation for online engagement. ChatBots are a great example of AI customer engagement as long as the experience is hassle-free. The OKKAMI ChatBot is programmed with conversational algorithms that can be used in several different customer scenarios.
Personalization of Services to the Guest
Artificial Intelligence uses a process known as predictive personalization to monitor customer behavior and then predict their next series of actions. This level of customization makes the overall experience feel as if it's catered to each customer. OKKAMI uses this technology to create a personalized experience for its users by predicting behavior and then recommending products or food menu items that customers are interested in.
The OKKAMI 3-Prong Approach for Improving Guest Satisfaction with AI
When your property has made the decision to incorporate Artificial Intelligence, OKKAMI has the tools, experience and track record to be successful at improving the guest experience.
Personalize the Customer Experience
One of the main advantages of AI is to offer personalized products and services. Customers no longer need to spend time researching to find a suitable product or service. Such examples that work flawlessly in our day-to-day lives are YouTube, Netflix and Amazon which provide recommendations based on user history.
Use Chatbots to Augment Customer Service
The key to efficient AI is clean and accurate data. One of the methods for collecting data is through chatbots. Such technology is configured to support customer engagement through business communication channels. Chatbots serve as a guide for your customers, leading them all of the way through the journey. They create awareness, interest, and help the customer decide to take action. AI can continue the cycle of personalizing a conversation with potential customers by serving as a sales assistant.
Use AI-Enabled Analytics to Identify Customer Insights
As online users navigate the internet, or your businesses platform, customers leave a digital trail. By analyzing their digital footprint, we can better understand the customer and recommend more suited services and products which lead to a higher chance of making a sale or client acquisition. It is possible for the property to analyze content such as feedback, service requests, and interaction times to discover what services the guests are interested in, which in turn improves customer satisfaction.
Artificial Intelligence Results in Higher Guest Satisfaction
Traditionally customer interactions were face to face and required a substantial number of resources to manage. However, with the integration of AI, OKKAMI is taking the customer experience to a whole new level. Properties in the hospitality and service industry are beginning to see Artificial Intelligence as a necessity rather than an unnecessary expense, especially when higher guest satisfaction is a result of an efficient and personalized customer journey.
OKKAMI provides solutions customized to meet your needs
Understanding your requirements and objectives is important to us. We listen and work together to create a truly unique and unforgettable experience.
Interested? Request a Quote
OKKAMI is a fully packed management software application for any organization in the hospitality or property management industry. Complete our online proposal form by submitting details about your property to receive a detailed quote summary.
Request Quote