Live Chat - Unified Messaging Software
The OKKAMI Unified Messaging Software Integrates Every Chat Channel into a Single Conversation.
What is Unified Chat
The OKKAMI unified multi-channel messaging platform allows most chat applications to be streamlined into one central messaging dashboard. This allows customers to communicate on their own devices without having to pick-up the in-room phone. Property staff can reply safely from the comfort of their office or from one centralized location. This will keep the hotel staff safe and can also reduce the cost of needing additional staff onsite.
Communicate With Guests, in Their Language
There are many platforms in the marketplace used for messaging and different applications are popular in different countries. The OKKAMI Live Chat not only streamlines messages from all platforms into one convenient place, but also auto translates the messaging. It is essential to have the OKKAMI Live Chat module to overcome any language barriers that may arise when dealing with foreign travelers. The property can type a message to a guest in the local language, and the guest will receive the message in theirs, and vice versa. Even if you speak the same language, live chat is a convenient link between you and your guests.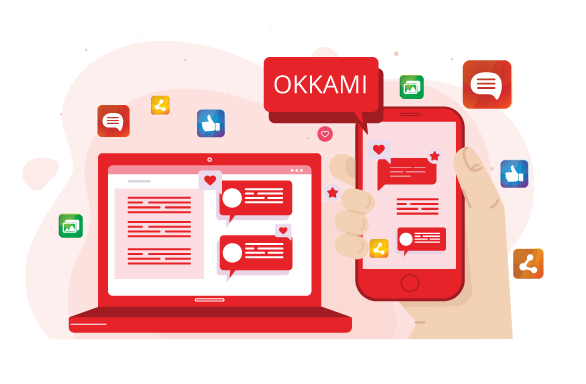 Chat Enabled Payments
Now your property can capture payments before the guests arrive on-sight. The OKKAMI Live Chat dashboard includes the OKKAMI payment gateway powered by several trusted global partners. This allows the hotel or property to capture payments for services like early check-in, airport pick up and other special packages before guests arrive. This feature helps properties capture lost revenue even prior to guests' arrival.
OKKAMI provides solutions customized to meet your needs
Understanding your requirements and objectives is important to us. We listen and work together to create a truly unique and unforgettable experience.
The Advantages of OKKAMI Messaging
Messaging offers all the benefits of classic chat and more. When both sides are online, it works just like live chat. But there is reduced pressure to be constantly available, as you can also answer at a later point and the customer will be conveniently notified. This means that service peaks will be less of an issue and offering chat support in a small team will be easier. If the guest wants to book a tour, menu item or service, a payment link can be sent through chat and payment captured, resulting in increased revenue for the hotel.
OKKAMI understands that for todays' travellers time is limited, and that smart technologies help improve the guest relationship services which hotel brands are built on. This is why OKKAMI has developed an all round cost effective and seamless communication solution between hotel team members and the guests. 
The advantage of the OKKAMI unified messaging software is that the guest can communicate with the property before, during or after each stay. Guests simply send their query and receive an immediate reply from the respective hotel. The message manager dashboard also shows the guest profile and the response can be customised to each guest's personal preference. 
The OKKAMI LiveChat module makes it very convenient for guests to easily make a restaurant booking or schedule a spa appointment. With the added benefit of the hotel being able to send payment links via the messenger and capture payments results in an increased revenue stream for the hotel or property.
WhatsApp
WhatsApp is the world's leading messaging app. It has over 2 billion active users. The OKKAMI WhatsApp Channel allows you to connect to the WhatsApp Business API – which was built for larger businesses to use for professional customer communication. By integrating with OKKAMI, your property can conveniently message any client with WhatsApp.
Facebook Messenger
Facebook Messenger is the world's second largest messaging App and is more widely distributed than WhatsApp. The unique advantage of Messenger is its direct connection to the Facebook platform. This creates a happy marriage between your marketing activities and your customer communication. By integrating with OKKAMI, your property can conveniently message any client with Facebook Messenger.
Telegram Messenger
Telegram was originally released in 2013 and doesn't dominate any market, however it is still widely used. With over 400 million users OKKAMI has integrated Telegram into the messaging application. By integrating with OKKAMI, your property can conveniently message any client with Telegram.
Line Messenger
Line is a freeware App which launched in 2011 and has grown to have over 200 million users. Line is a very popular application in Asia and allows Line users to exchange texts, images, video and audio, and conduct free VoIP conversations and video conferences. By integrating with OKKAMI, your property can conveniently message any client with Line messaging.
Viber Messenger
Viber messenger was first developed in 2010 and has grown to over 260 million active monthly users world wide. Viber is mainly popular in Eastern Europe, Russia, the Middle East, and some Asian markets. By integrating with OKKAMI, your property can conveniently message any client with Viber messenger.
WeChat Messenger
WeChat messenger was first developed in 2011 and has grown to over 1.2 billion active monthly users world wide. WeChat is mainly popular in Asian markets, predominantly China and is growing in popularity in the USA. By integrating with OKKAMI, your property can conveniently message any client with WeChat messenger.
Unified Message Manager
The Unified Message Manager is the OKKAMI interface for your staff and agents. This is where all of the messages for the different applications are received and replied to.
The Unified Message Manager is very similar to a web-based message application which also offers features such as multimedia support, and live translation which is very useful for hotels as they cater for international travelers.
The Unified Messenger Manager can operate in a shared structure so that conversations can be viewed by team members and can be assigned to you or a colleague.
Interested? Request a Quote
OKKAMI is a fully packed management software application for any organization in the hospitality or property management industry. Complete our online proposal form by submitting details about your property to receive a detailed quote summary.
Request Quote